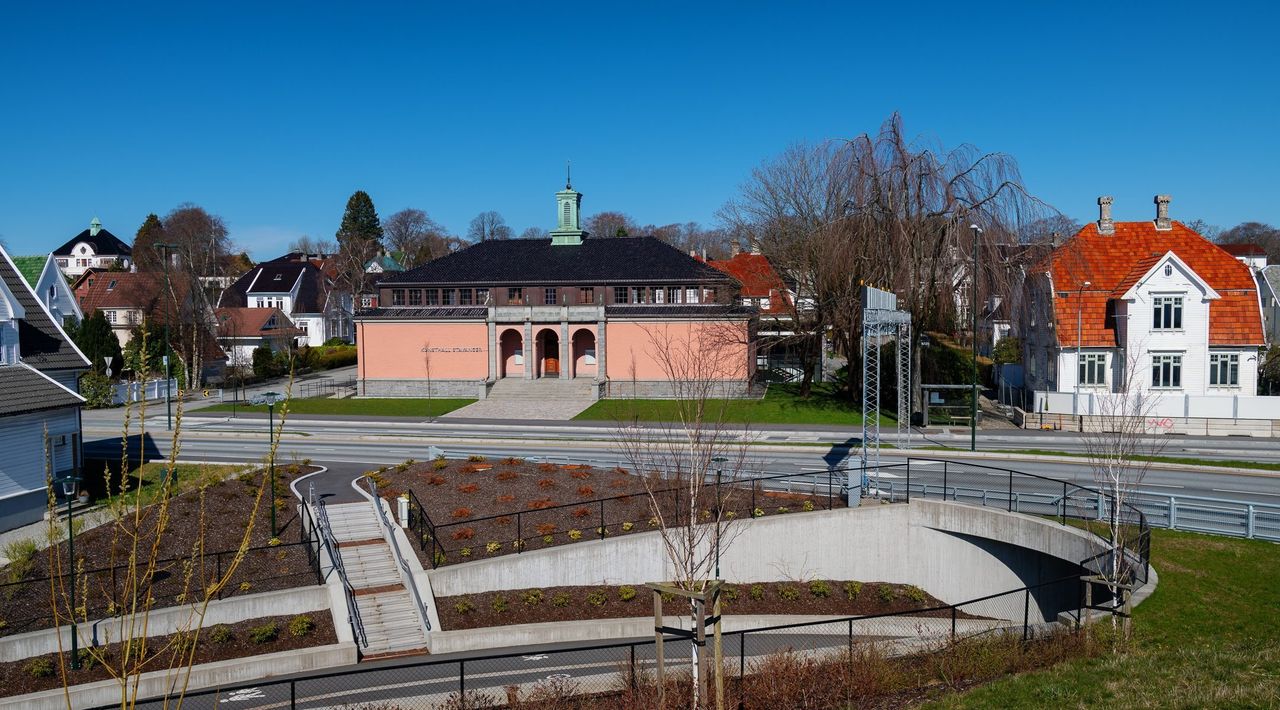 Free admission to all exhibitions in 2023!
View our current exhibitions and upcoming events.
Hours:
Our regular opening hours during exhibitions are Wednesday – Sunday 11:00–16:00.
We are closed on Norwegian national holidays.
Kunsthall Stavanger
Madlaveien 33
4009 Stavanger

info@kunsthallstavanger.no
+47 51 56 41 20
Instagram, Facebook

We look forward to welcoming you at Kunsthall Stavanger!
Kunsthall Stavanger is located at Madlaveien 33 in Eiganes Bydel, by the roundabout by Madlaveien 441 and E39. We encourage everyone to use environmentally friendly and sustainable transport when visiting!
Walking
It takes 10–15 minutes to walk to the kunsthall from Stavanger city center or from the main bus/train station. Follow Kannikgata from Kannikkrysset to the end of the road.
Biking
It takes 5 minutes to bike to the kunsthall from Stavanger city center. We have a bike rack for your bike, and kolumbus.no electrical city bikes outside our building.
Bus
We have good and frequent bus connections to the kunsthall. The bus ride from Stavanger city center takes a maximum of 5 minutes. Bus no. 2, 3, 6, 7, and 16 stop right outside the kunsthall at the bus stop St. Svithuns Plass.
Check kolumbus.no to plan your trip.
Car
Parking during summer, 2023: We have limited parking spaces available. The usual way to our parking through Kannikgata is closed at the moment. Drive up Madlaveien with the kunsthall on you right. After passing the kunsthall, turn right onto Orknøygata, turn right again onto Munkehagen, right again where you see the sign, and right one last time onto Kannikgata. Go all the way to the end and you will find our parking.

We have access for wheelchair users via a stair lift (max. 300 kg.). To access the lift, please enter through the kunsthall's side entrance, where you can ring the bell and notify the receptionist to assist you. Alternatively, a companion may notify the receptionist via the main entrance.
Wheelchair accessibility through the main entrance is one of our main priorities. We are currently fundraising to build a permanent ramp, which we aim to finalise by the building's 100th year anniversary in 2025. 
In this privacy statement, we would like to inform you about how we process your personal data. We will explain why we collect information about you, how we use this information, and how we see to that your privacy is respected.

'Personal data' refers to data and assessments that can be linked to an identifiable individual. This might for example be someone's name and contact details or information about their interests.
The use of personal data must comply with the Personal Data Act. As the designated data controller, Kunsthall Stavanger will ensure that we use your personal data in accordance with the provisions of the law.


What type of personal data do we collect?
Depending on what type of information you provide us with, how you use our services, and how much you permit us to do, we have the following information about you:
– Personal information: Information you provide when you e.g. become a member of Kunsthall Stavanger, such as your name, address, phone number, and e-mail address.
– Purchase information: Information we receive when you buy entry tickets or products from us, such as which items you have bought, your card number, and the payment method (e.g. Visa, Vipps).
– Communication: Information you provide when you contact us, e.g. in e-mail correspondence.
– How you use our website: Information we receive when you use our website, such as what sort of device you have (e.g. mobile phone or computer), your IP address, which pages you visit, and which functions you use there.

What do we use your personal data for?
We use your personal data for the following purposes:
– Website services: We use the information to adapt our website to the technical equipment you use. We may also use the information to adapt our website content.
– Purchases: We use the information to transact your purchases of e.g. entry tickets and products.
– Membership: If you become a member of Kunsthall Stavanger, we use the information to e.g. store your contact details and purchase information.
– Customer service: In order to provide service and take care of you as a customer, we store the information that you provide and receive if you contact us via e.g. e-mail.
– Marketing: If you subscribe to our newsletter, we use your contact details (e.g. your e-mail address) to send you information about our exhibitions and events.
The legal basis of purposes 1, 4, and 5 is our reasonable interest in being able to offer, develop, and market our services. The legal basis of purposes 2, 3, and 4 is to fulfil our contract with you.


With whom do we share your personal data?
We might share your personal data with companies that deliver technical and administrative services to us, such as IT suppliers. We have agreements in place with such parties in order to ensure your privacy.
In exceptional cases, we may provide information to e.g. public authorities if there is a suspicion of a crime.
If we use IT suppliers from outside the European Economic Area (EEA), and for that reason transfer personal data out of the EEA, we see to that your privacy is contractually ensured.
We may also share anonymized information with our partners for the sake of e.g. market analysis and service development. 

How long do we store your personal data?
Your personal data will be stored as long as necessary in order to carry out the services described in this declaration, until you request that we delete the information, or as long as the law orders us to store it, at which point the information will be deleted. 

Your rights
You may have the right to ask us to:
– Provide you with further information about how we process your personal data.
– Provide you with a copy of the personal data we have about you.
– Update your personal data.
– Delete information that we no longer have a reason to retain.
– Limit or stop the processing of your information.
– Register your objection to the making of automatic decisions on your behalf, including in regard to profiling.
– Either give you, in a structured, commonly used, and machine-readable format, the information you have provided us with, or, where technically feasible, transfer this information to another enterprise.
– Withdraw any statements of consent you have given us.
Note that there are limitations to these rights. If you would like further information about your rights, feel free to contact us.
If you believe that our processing of personal data contravenes the Personal Data Act, you have a right to complain to the Norwegian Data Protection Authority (Datatilsynet). Before you take that step, however, we would kindly request that you contact us so that we may reply to your questions or clear up any misunderstandings.


Changes to the privacy declaration
We may update the privacy declaration every now and then. The latest version of our privacy declaration is always available on our website.

Contact details
For any enquiries, please contact:
Jessica Morris
jess@kunsthallstavanger.no
+47 51 56 41 20
Kunsthall Stavanger
Madlaveien 30
4009 Stavanger, Norway


Privacy of Members
We store our active members' name and e-mail address in order to be able to invite you to exhibition openings and member events, as well as send you information via e-mail about Kunsthall Stavanger's activities and current products and offers from our shop. The contact details are processed and stored in a secure and confidential manner and are not used in other contexts than those you have consented to when becoming a member.
Also read also our privacy declaration and information about cookies.
Should you no longer wish to be a member of Kunsthall Stavanger, please contact us at info@kunsthallstavanger.no.


Privacy of Volunteers
Kunsthall Stavanger keeps in touch with volunteers and makes use of their efforts. As a result, we have a registry of volunteers who give their consent to the following information being stored:
– Name, address, telephone, e-mail
– Which activities and events the volunteer participates in
Volunteers who want to can become members of Kunsthall Stavanger's Facebook group for volunteers, where they can keep in touch with the institution and with their fellow volunteers. This group has been created to simplify contact both with and among the volunteers.