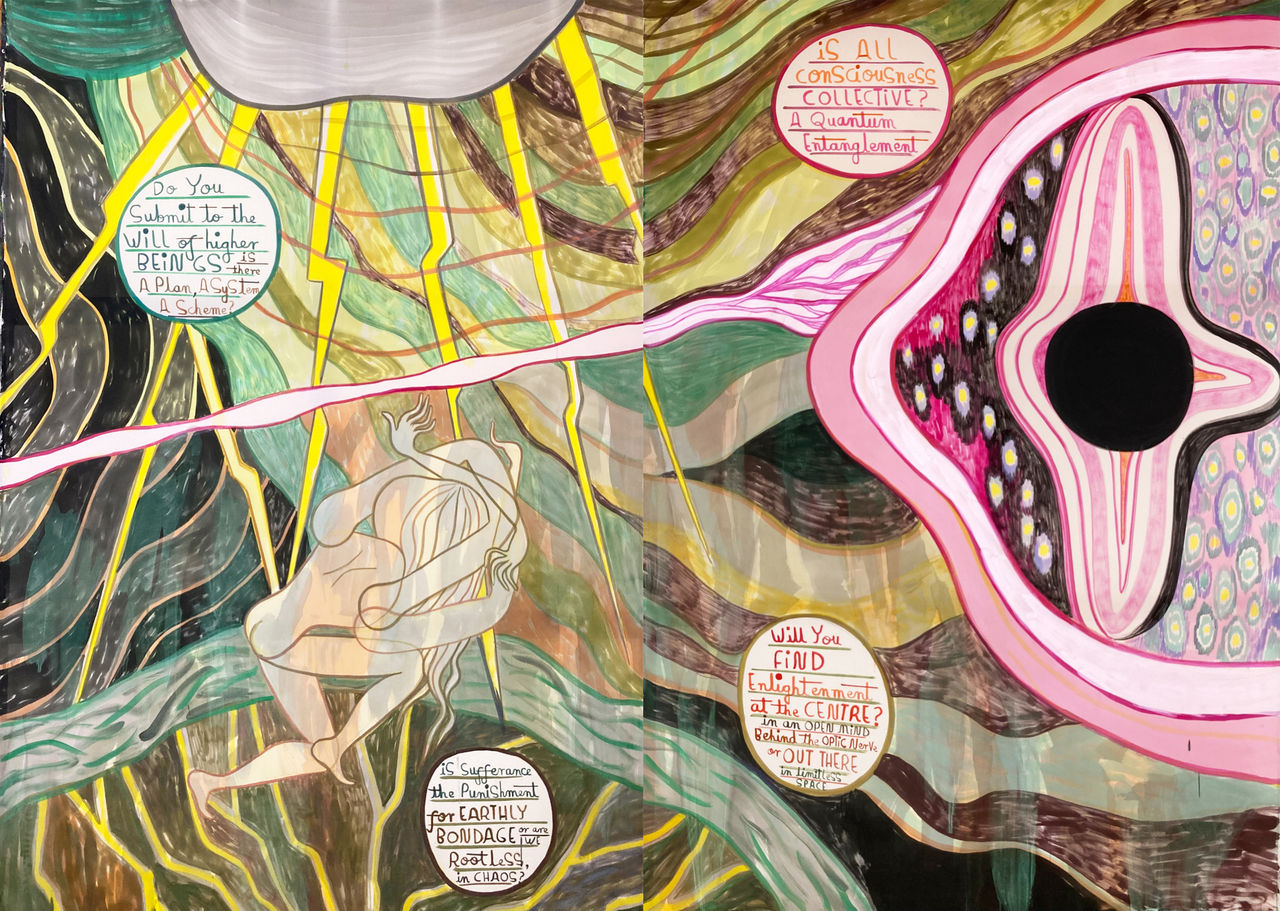 Kunsthall Stavanger presents the first solo exhibition in Scandinavia with Emma Talbot, comprising new large-scale paintings, sculptures, drawings, and animations.
Talbot is acclaimed for artworks that confront some of the most urgent questions of our time, such as how we relate to one another and to the world around us on personal, ecological and technological levels. She often proposes future possibilities while considering the role of art as one of the most ancient forms of communication. Working across painting, drawing, sculpture and animation, and moving freely between aspects of autobiography, memory, psychology, feminist theory and ecopolitics, the artist creates fluidly rendered worlds combining image, pattern and text that extend a highly personal engagement into the realm of allegory.

The exhibition at Kunsthall Stavanger will concentrate on the two life events that we all have to experience - birth and death, conceived as mythical pin-points and monumental markers, between which the span of a human lifetime is proposed as a fleeting, floating, volatile, temporal thing.
The exhibition is a collaboration with Kunsthalle Giessen, where it will be on view December 1, 2023 - February 18, 2024.
Emma Talbot (b. 1969, Stourbridge, lives and works in London) is the winner of the 8th Max Mara Art Prize for Women and was included in The Milk of Dreams at the Venice Biennale in 2022. Her work has previously been exhibited at Whitechapel, London; Collezione Maramotti, Italy; Beiqiu Museum, China; Victoria Miro, London; Eastside Projects, Birmingham; Kunsthaus Centre D'Art Pasquart, Switzerland; Arcadia Missa, New York; KM21, The Hague, Netherlands; Turner Contemporary, Margate; The Freud Museum; London; Lisson Gallery, London; Galerie Onrust, Amsterdam; Petra Rinck Galerie, Düsseldorf; Neuer Aachener Kunstverein, Germany and Tate St.Ives, England. Talbot studied at Birmingham Institute of Art & Design og Royal College of Art in London.