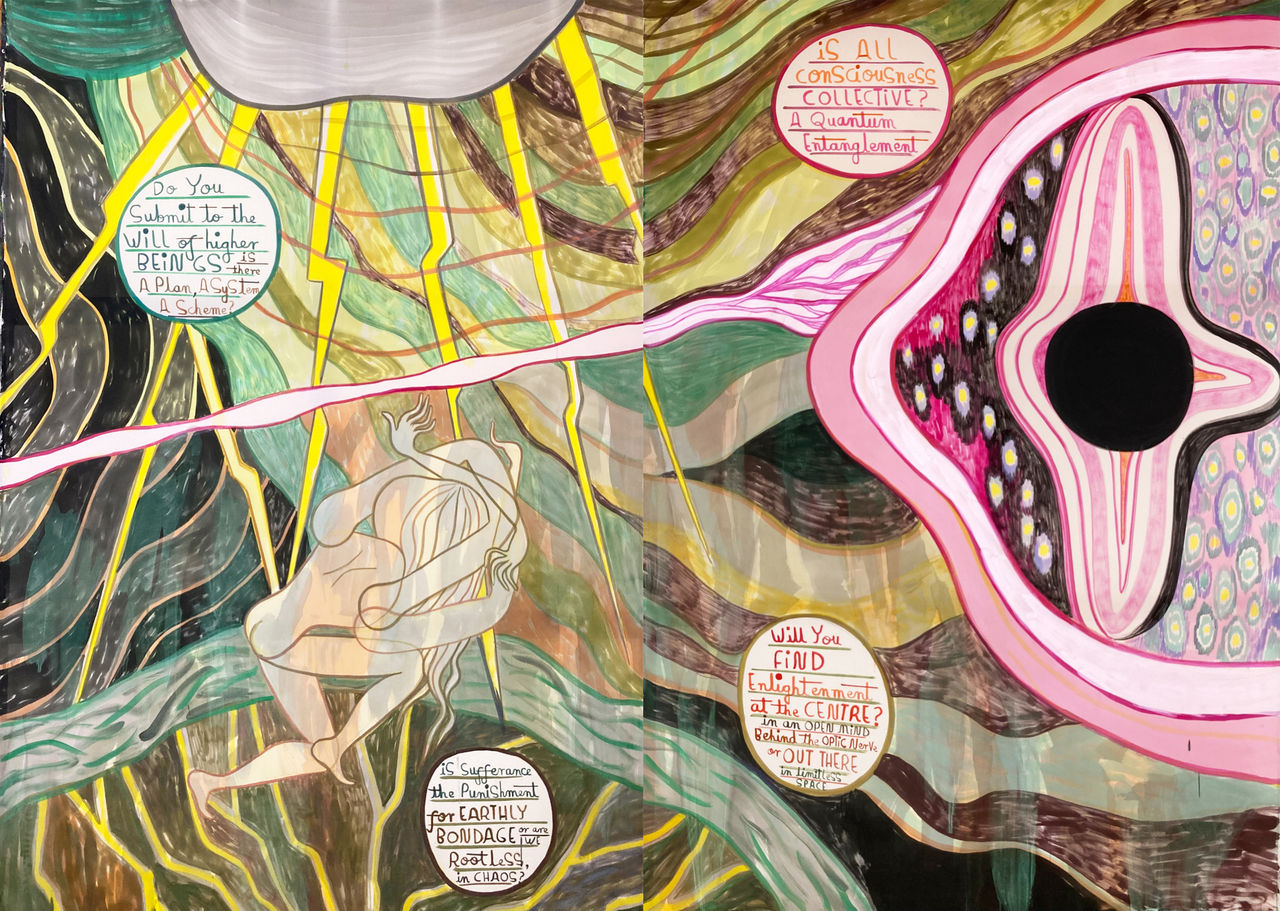 Kunsthall Stavanger presenterer den første separatutstillingen i Skandinavia med den britiske kunstneren Emma Talbot. The Human Experience inkluderer nye malerier, skulpturer, tegninger og animasjoner, som alle har blitt produsert spesielt til utstillingen. Talbot er vinner av den åttende Max Mara Art Prize for Women og var del av The Milk of Dreams, hovedutstillingen på Venezia-biennalen i 2022.
Emma Talbot er anerkjent for kunstverk som konfronterer noen av de mest presserende spørsmålene i vår tid. I verkene utforsker hun hvordan vi forholder oss til hverandre og til verden rundt oss på et personlig, økologisk og teknologisk nivå, og foreslår ofte fremtidige muligheter samtidig som hun ser tilbake på kunstens rolle som en av de eldste formene for kommunikasjon. Ved å jobbe på tvers av maleri, tegning, skulptur og animasjon, beveger hun seg fritt mellom aspekter av selvbiografi, minne, psykologi, feministisk teori og økopolitikk.
I utstillingen på Kunsthall Stavanger setter Talbot søkelys på de to livsbegivenhetene som vi alle må oppleve: fødsel og død. Disse to begivenhetene blir mytiske og monumentale markører på hver sin side av et menneskes liv, som av Talbot beskrives som noe flyktig, flytende og temporalt.


Utstillingen er et samarbeid med Kunsthalle Giessen, der den skal vises 1. desember 2023 - 18. februar 2024.
Emma Talbot (f. 1969, Stourbridge, bor og arbeider i London) er utdannet ved Birmingham Institute of Art & Design og Royal College of Art i London. Hun er vinner av den åttende Max Mara Art Prize for Women. Arbeidene hennes har tidligere vært utstilt på The Milk of Dreams, Venezia-biennalen 2022, Whitechapel, London; Collezione Maramotti, Italia; Beiqiu Museum, Kina; Victoria Miro, London; Eastside Projects, Birmingham; Kunsthaus Centre D'Art Pasquart, Sveits; Arcadia Missa, New York; Turner Contemporary, Margate; The Freud Museum; London; Lisson Gallery, London; Galerie Onrust, Amsterdam; Petra Rinck Galerie, Düsseldorf; Neuer Aachener Kunstverein, Tyskland, og Tate St.Ives, England.