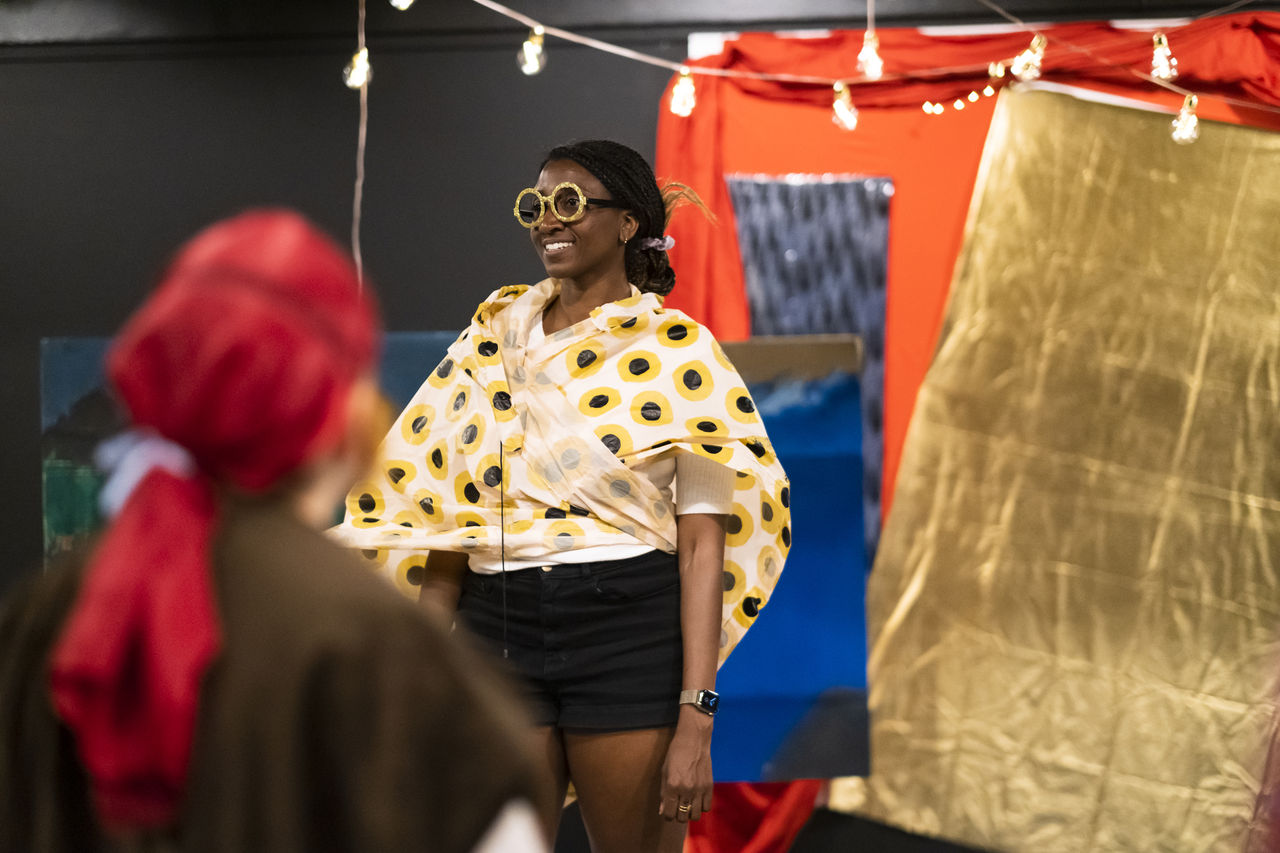 In Brown´s workshop, the participants approached drama through contrasts in emotion. They found stories and characters by playing with their energy, posture, and movements. They then added objects to the mix and explored the absurd. Absurd things are things that seem illogical or ridiculous – but oftentimes they reveal deeper meaning about our everyday lives through their humor.

Brown's workshop was part of the spring semester curated by Lee Heinemann, exploring the theme DRAMA.
Curator: Kristina Ketola Bore
Spring Program Curator: Lee Heinemann
Project Manager: Marisa Molin
Youth Worker: Trine Ottosen
Mobilizing Citizenship has received generous funding from Arts Council Norway, Nordic Culture Point and Rogaland County Municipality.
Lex Brown is a multimedia artist who uses poetry and science-fiction to create an index for our psychological experiences as organic beings in a rapidly technologized world. Through humorous characters and expansive fictional worlds, her work opens up a place for spiritual examination. Brown has performed and exhibited work at the New Museum, the High Line, the International Center of Photography, Recess, and The Kitchen, REDCAT Theater, The Baltimore Museum of Art and at the Munch Museum in Oslo, Norway. She was a 2021 recipient of the prestigious USA Fellowship. She is the host of the podcast 1-800-POWERS available on Spotify and Apple Podcasts.
Mobilizing Citizenship (MC)


Mobilizing Citizenship (MC) is an educational project where artists and designers work together with youth at Kunsthall Stavanger. Since its inception in 2018, MC has developed into a practice-based research project. During 2022–2024, the project focus is on building more knowledge about how to create good meetings between contemporary art and young people. As part of this, we are collaborating with institutions and cultural workers from around the world who have expertise in this area. The result of the project will take the form of reflections and documentations, which are made accessible to artists, curators, cultural workers and institutions who want to create relevant offerings for young people.
Themes and Participants
Spring 2022
DRAMA
With: Lee Heinemann (curator), Delali Ayivor, Lex Brown, Ingela Ihrman
Autumn 2019
Unpacking the Visual Norms
With: Benedetta Crippa, Toxic Waste Face, Jennie Bringaker, Lee Heinemann
Spring 2019
Movement and Body Representation
With: WALK OF SHAME, Sidsel Christensen, Zinzi Minott, Trojan Horse (Kaisa Karvinen, Tommi Vasko)
Autumn 2018
Public Space in the Context of the Digital
With: Clara Balaguer, Eglé Kulbokaité and Dorota Gawęda, Laurel Schwulst, Andreas Knag Danielsen and David Lamignan Larsen
Spring 2018
Activism as Artistic Tool
With: Hardworking Goodlooking (Clara Balaguer, Kristian Henson), Synnøve Sizou G. Wetten, Hans Edward Hammonds, Nicole Killian and Benjamin Hickethier