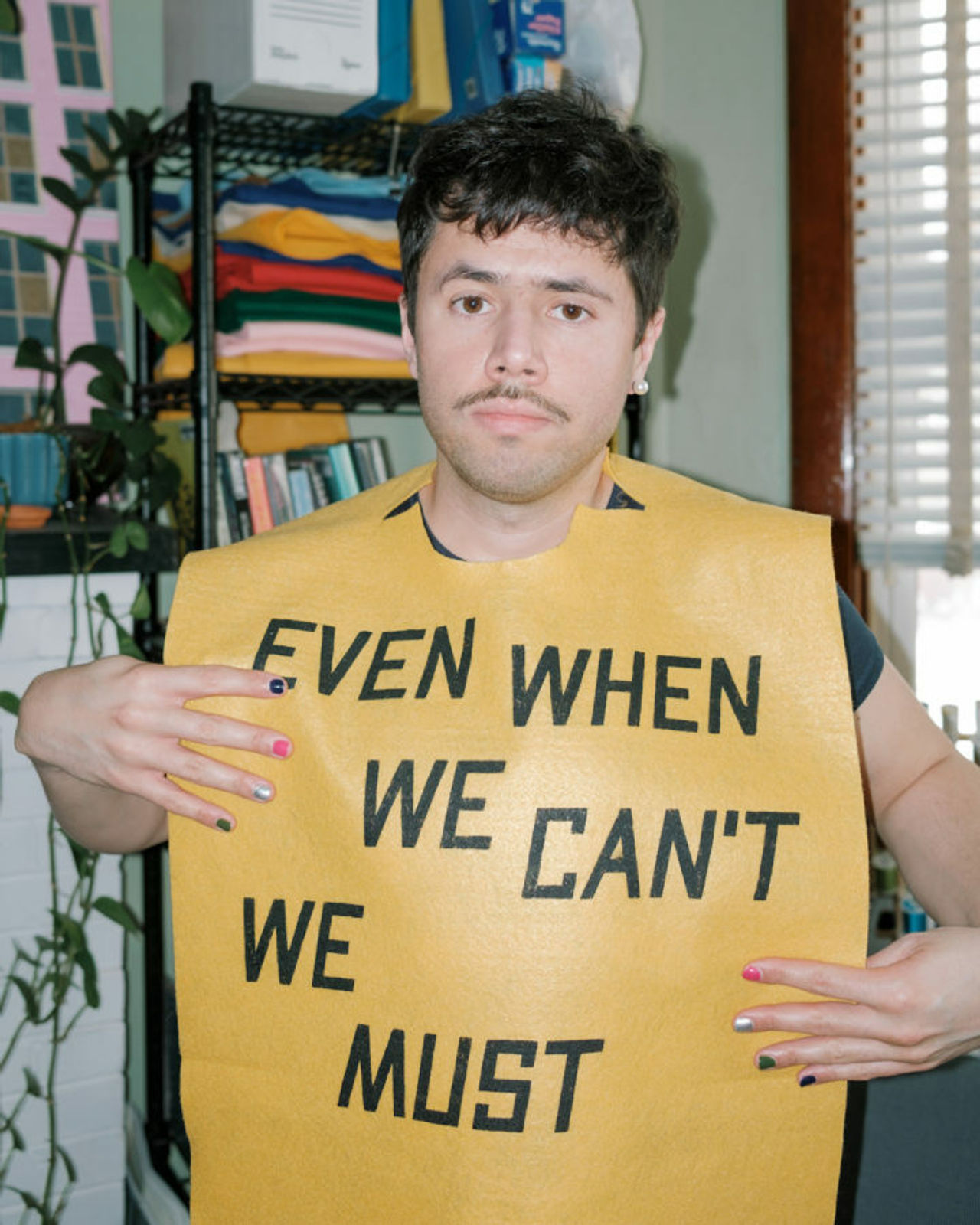 Som del av markeringen av Skeivt Kulturår og avkriminaliseringen av homofili i Norge for 50 år siden, lanserer Kunsthall Stavanger et nytt digitalt prosjekt.
Prosjektet består av fire bestillingsverk av Olivia Douglass, Zutana Hadaddeen, Nat Pyper og virgil b/g taylor som vil aktiveres i et interaktivt format på vår nye digitale plattform. Verkene vil sammen bidra til å løfte fram mangefasetterte opplevelser av å være skeiv i dag. Fellesnevneren til bidragsyterne er at de alle jobber med språk som både fysisk og performativt materiale. Alle verk er laget med tanke på å erfares på digitale flater.
Det første verket lanseres i desember 2022, med de påfølgende tre verkene i mars, mai og juli 2023.

Prosjektet kurateres av Kristina Ketola Bore, Kurator, utstillinger og formidlingsprogram.
Tittelen på prosjektet er lånt fra Nat Pypers verk med samme navn.

Nat Pyper er en alfabetkunstner. I deres arbeid og tekster bruker de språk som en sil som de dytter kroppen gjennom. Pyper jobber med research på queer anarcho-punkziner fra siste del av 1980- og tidlig 90-årene. Deres praksis inspireres av den uregjerlige historien knyttet til denne bevegelsen og dens kroppsliggjøring av nektelse. Pypers arbeid har blitt vist på Chuquimarca Projects, Gene Siskel Film Center og RUSCHWOMAN i Chicago, Vox Populi i Philadelphia, og Printed Matter i New York City. Deres tekster er publisert av Are.na, Draw Down Books, Drawstring Magazine, GenderFail, Inga Books, Martian Press, Queer.Archive.Work og the Walker Art Center. De har en MFA fra Yale School of Art. De er for øyeblikket en 2021-22 HATCH Artist Resident ved Chicago Artists Coalition.
Olivia Douglass er en britisk-nigeriansk skribent, poet og kunstner. De er vinneren av The Guardians and 4th Estate 4th Write Prize 2022 med deres tekst Ink. De har skrevet Slow Tongue, en verse/lyrisk essayhybrid i respons til M. NourbeSe Philips She Tries Her Tongue Her Silence Softly Breaks. Deres tekster har blitt publisert i blant annet Bath Magg, Nothing Personal og Prototype 2, og de skrev forordet til Away With Word vol.4. A Barbican Young Poets Alumna. Douglass har hatt bestillingsoppdrag hos National Poetry Library (London) og Galleria Duarte Sequeira (Portugal), samt kuratert leserom for Passa Porta Festival (Brussels) og Nottingham Contemporary. De har hatt residensier ved Talawa Theatre Company og Theatre Peckham, Douglass var kortlistet til Rebecca Swift Foundation's Women Poet Prize 2020 og var i 2021 langlistet for et Jerwood Compton Poetry Fellowship. I 2022 kuraterte Douglass den eksperimentell poesisamling Strange Echoes ved Institute of Contemporary Arts (London). Olivia studere for øyeblikket på MSt Creative Writing ved University of Oxford og jobber på sin første roman.
virgil b/g taylor er i egne ord en faggot, bosatt i Tyskland. Han lager fag tips, en spekulativ zine på nett. taylor er halvparten av sssssssssSsss, et studievennskap med Ashkan Sepahvand, en tredjedel av Indefinite Leave to Remain med Moad Musbahi og Vishal Kumaraswamy, og en brøkdel av What Would An HIV Doula Do?, et kollektiv av kunstnere, forfattere, omsorgspersoner, aktivister og flere som har samlet seg i respons til den pågående HIV/AIDS-pandemien. Arbeidet hans utforsker historier om omsorg, krise, ekskludering og toksisitet.
Zutana Hadaddeen en av Norges mest berømte influensere og tiktokere. Zutana Hadaddeen er performancekunstner, influenser og aktivist, og har over hundretusen følgere og seere på sine kanaler. Hun produserer shows, stand up, taler og samtaler, og deler på sine kanaler øyeblikk fra hverdagen, meninger og underholdende videoer. Tross den unge alderen hennes, er 18 år gamle Zutana vinneren av BYAS-prisen 2021 for arbeidet sitt gjennom pandemien. Zutana er født i Jordan til en jordansk far og en palestinsk og armensk mor. Hun flyttet til Sandnes i 2015 og kommer fra en kristen bakgrunn der hun ikke ble akseptert for å være skeiv.
Prosjekter i denne serien